Dogecoin Price Prediction as DOGE Becomes Top Meme Coin in the World – Can DOGE Reach $10 in 2024?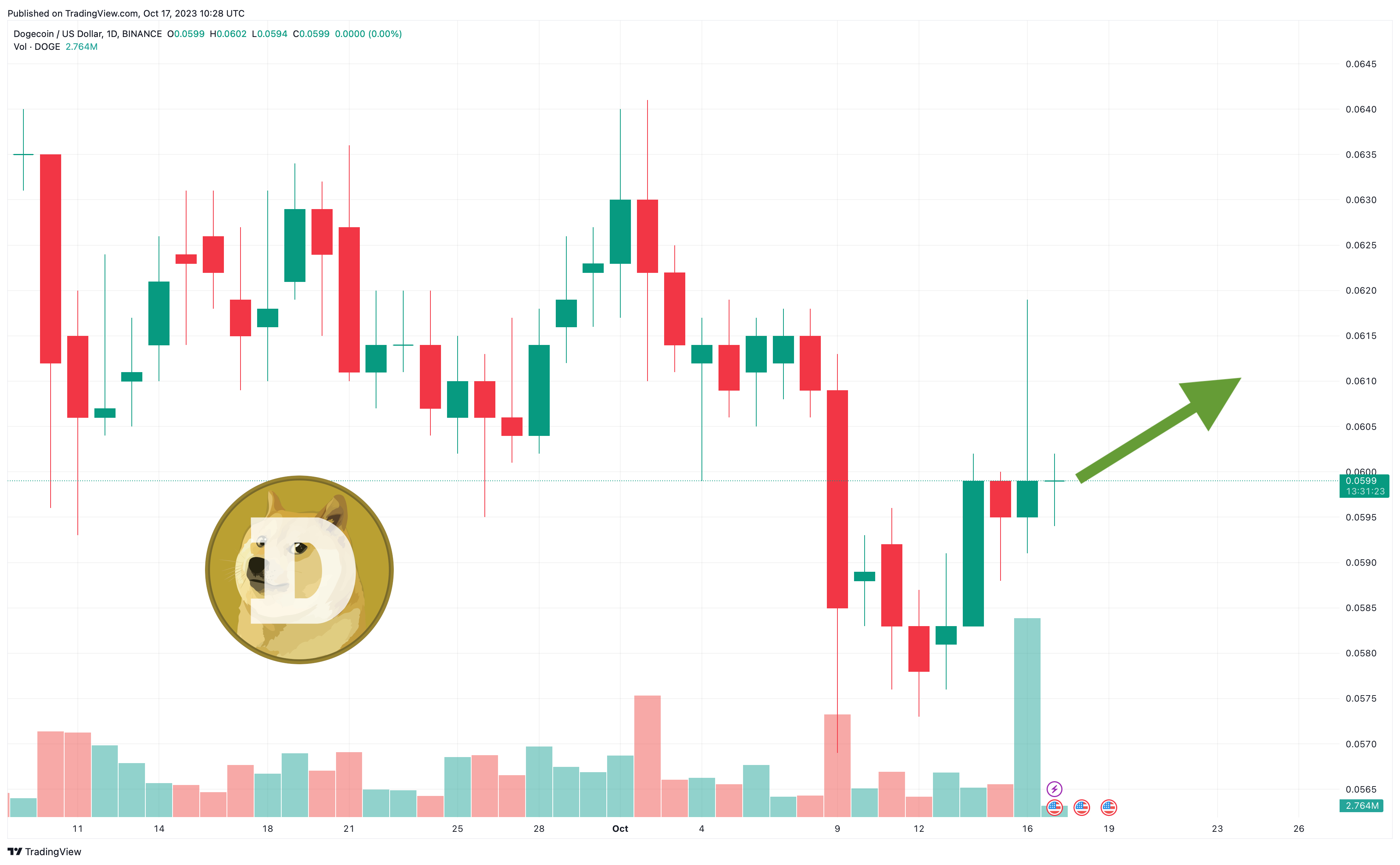 The Dogecoin price has held to $0.060052 today, marking a 0% move in 24 hours and 1.5% gain in the past week.
DOGE remains down by 3.5% in a month, however, with the meme token also having declined by 13.5% since the beginning of January.
Yet DOGE's positivity over the past week has reinforced its position as the market's biggest meme token, with the altcoin also remaining in the top 10 of cryptocurrencies by market cap.
And with the market primed to rally big if and when a Bitcoin ETF is approved, DOGE may be in line for some big gains soon, particularly if there's any more news on Twitter's ongoing attempts to introduce digital payments.
Dogecoin Price Prediction as DOGE Becomes Top Meme Coin in the World – Can DOGE Reach $10 in 2024?
Despite DOGE's rises of the past week, its indicators continue to look fairly subdued, with there currently being no technical suggestion that a rally may be imminent.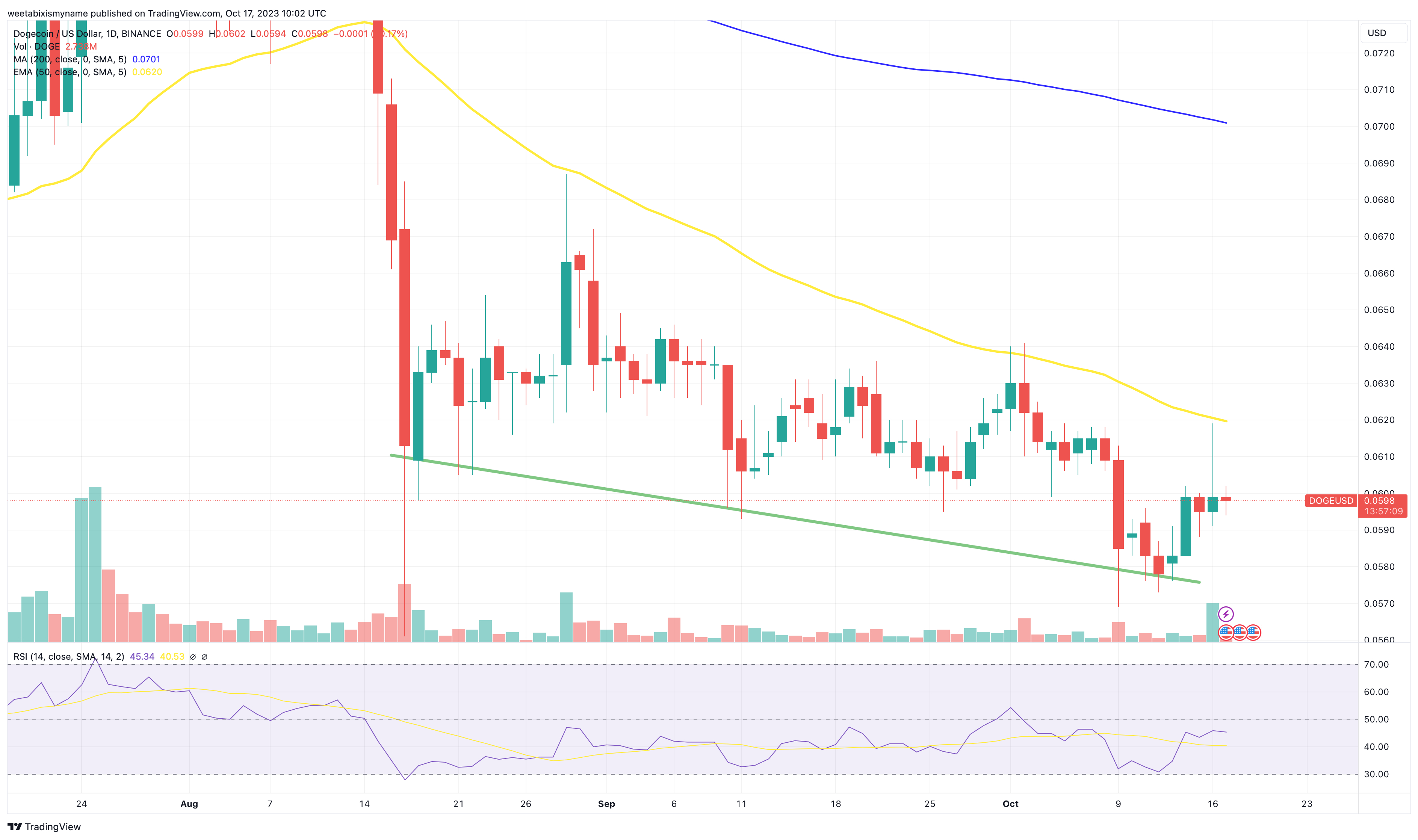 For one, DOGE's relative strength index (purple) has stalled after attempting to rise to 50 earlier last week, with the indicator currently stuck at around 45, which is suggestive of neither overselling nor any real buying momentum.
It's a similar story with the meme token's 30-day exponential moving average (yellow), which continues to slide further below its 200-day average (blue), despite already being some distance underneath it.
Just as disconcerting is DOGE's support level (green), which has slid downwards consistently since the middle of August, and while Dogecoin has seen an increase in the past week, previous experience would show that momentary rises can take place in the context of an overall decline.
These concerns aside, yesterday's market-wide rally shows how the approval of a Bitcoin ETF would benefit most cryptocurrencies, including Dogecoin.
Such an approval would serve to legitimize the entire crypto sector, thereby increasing demand for DOGE itself (among many other tokens), something which will only boost its price over time.
Of course, this wouldn't help DOGE any more than it would help other cryptocurrencies, with the meme token having little else in terms of fundamentals to support its price in the longer term.
Its only real hope is the long-running saga related to cryptocurrency payments on X (formerly Twitter), which has undoubtedly been working towards introducing digital payments of some kind on its platform.
There's currently no firm indication that DOGE would be selected ahead of other cryptocurrencies if X does bring in payments, even if Elon Musk is a long-term supporter of the meme token.
Still, if this ever does happen, DOGE would rocket overnight, potentially hitting whole figures.
But if it doesn't, expect Dogecoin to fall further behind other major cryptocurrencies, with a continued bear market likely to push it further down until sentiment significantly improves.
Stronger Meme Tokens
Because DOGE isn't likely to enjoy a big rally for a while, many traders may prefer to look into newer meme tokens, particularly those that are still awaiting their first initial growth spurts (which are usually bigger than later rallies).
One way of finding such tokens is by looking at the latest presales, with some presale coins boasting encouragingly strong fundamentals.
This includes Meme Kombat (MK), an Ethereum-based betting platform that has raised more than $500,000 since launching its sale several weeks ago.
What has helped Meme Kombat attract such funding is its interestingly unique platform, which will enable to users to bet on the outcomes of AI-generated battles between meme characters.
Put differently, Meme Kombat's platform will regularly stage randomized battles between memes (as well as hosting other games), with players invited to bet against each other or against the platform itself in predicting the winners of such battles.
Bets will be waged and rewarded in native token MK, which will have a hard cap of 120 million tokens, with 50% of this being allocated to the presale.
Another 30% will go to battle and staking rewards, with the ability to stake MK making it doubly profitable for holders.
Such tokenomics have clearly helped Meme Kombat attract investors to its presale, with the platform also being helped by its entertaining and playful use of popular memes, which in the crypto space should help draw a big community.
New investors can participate in the presale simply by going to Meme Kombat's official website, with 1 MK priced at $0.1667 for the entire presale.
Once the sale ends, MK will list on exchanges, where it could very easily rally big, making it one of the fastest-growing meme tokens in the market.
Disclaimer: Crypto is a high-risk asset class. This article is provided for informational purposes and does not constitute investment advice. You could lose all of your capital.
---